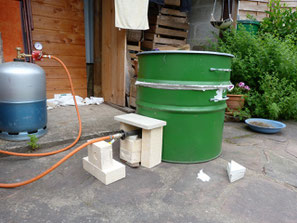 J'aime bien mon four. Lui et moi, on apprend à se connaitre. Il cuit tout ce que je lui demande ; et je me plie aux conditions qu'il requiert pour cuire le mieux possible et sans faire de casse. 
Le seul souci, est qu'il faut cuire quand il n'y pas trop de vent, et qu'il ne pleut pas de préférence. Et ces derniers mois, soit il y avait du vent, soit il pleuvait, soit les deux en même temps. Alors les pièces en terre crue attendent sur les étagères. Elles sont bien sèches, pas de souci !
Vivement le beau temps, pour que le four se remette en marche !
I like my kiln. He and I, we get to know each other. He fires all I want him to fire, and I accept any condition he needs to fire as best as possible, without any breaking inside. 
The only problem, is that we can only fire when there is no wind and no rain. And those past months, either it was windy, either it was raining. Or both at the same time. This means that many pieces are waiting on the studio shelves, surely dry, for a nicer weather to get a sit in the kiln. Me and the kiln, we can't wait for this moment !